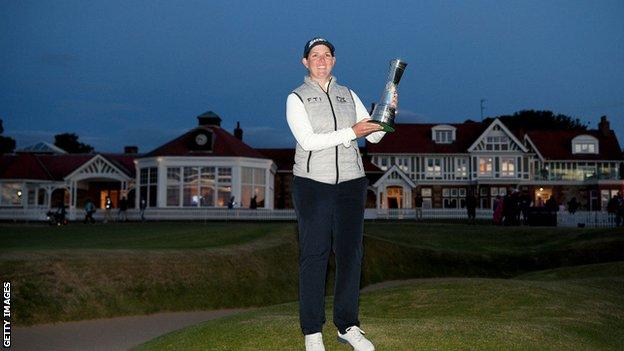 -10
Buhai* (SA), Chun (Kor);
-9
Shibuno (Japan);
-7
Sagstrom (Sweden), Lee (Australia), Maguire (Ireland)
Others selected: -1
Ewart Shadoff, Duncan (Sco);
grade
Hall (English), Hull (English);
+3
Reed (English);
+5
Law (English)
*Indicates the winner after the four-hole play-off
Full leaderboard
South Africa's Ashleigh Buhai sealed her first major victory with a five-shot lead over South Korea's Inui-chun in a dramatic play-off match at the AIG Women's Open.
Buhai made par on the fourth play-off hole after hitting at Muirfield at 21:10 BST.
The 33-year-old's lead at the start of the day disappeared as she made a triple bogey on the par-4 15th.
That saw her fall at -10 with three-time Grand Slam champion Chun.
The two were inseparable on the first three holes of the playoffs, matching each other with par, bogey, and par.
Buhay finally got the problem out of the way, hitting a fine up-and-down shot in the bunker for par, and Chun, who found a bunker on the tee, failed to match.
'It's life changing'
Buhai, the first South African to win the event since 1979, took home $1.095 million (£907,000) out of a $7.3 million (£6.05 million) haul.
"I'm very proud of myself, how I dig deep to get to the play-offs," said Buhai, who won at Muirfield with compatriots Gary Player (1959) and Ernie Els (2002) Grand Slam champion.
"It's hard to put into words right now. It might only hit me in a few days, but obviously I'm proud.
"We're a very small country, so it's important to be able to produce a lot of Grand Slam champions, and now for me, being a South African women's Grand Slam champion, I have nothing to say – that's changed my life."
Chun, 27, added: "I never gave up and gave my all. Ashleigh played a great bunker ball and she deserved it. I'm very happy for her."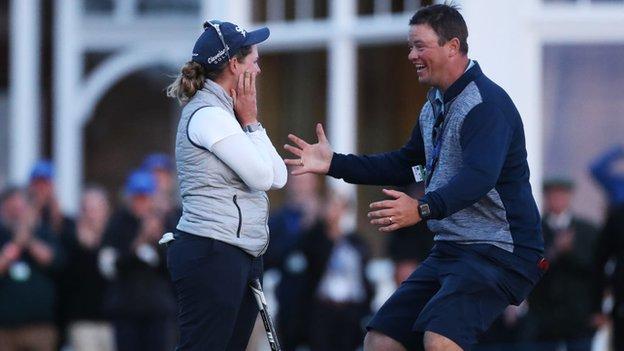 The story of the round
World No. 84 Buhai, who had an early 4-over 75, had a three-shot lead with four holes left before she finally fell to the ground.
Jun Yi, who won the Women's PGA Championship in June, was tied for second at 9-under and got off to a strong start with three birdies on her first nine holes.
But two bogeys on her back nine put her mark at a one-under 70.
Japan's Hinako Shibuno also started the day at nine under par with a mixed round that included an eagle on the par 5. She still needed a birdie on the 18th hole, but the par gave her a 71 to finish third at 9 under.
Maguire records best major result
Ireland's Leona Maguire had a 66 to tie for fourth at 7 under with Sweden's Madeleine Sagstrom and Australia's Minjie Lee.
Maguire, who had his best finish to date in a major, said: "I don't think I could have played better today. If there were some opportunities to come in, it would be nice to make a few more putts, but it's very It's hard there, definitely the best golf I've had so far this week."
England's Jodi Ewart Shadoff and Scotland's Louise Duncan were the best-ranked Brits, who were tied for 19th at 1 under, while the British duo of Charley Hull and Georgia Hall were 3 over. Even with compatriot Mel Reid.