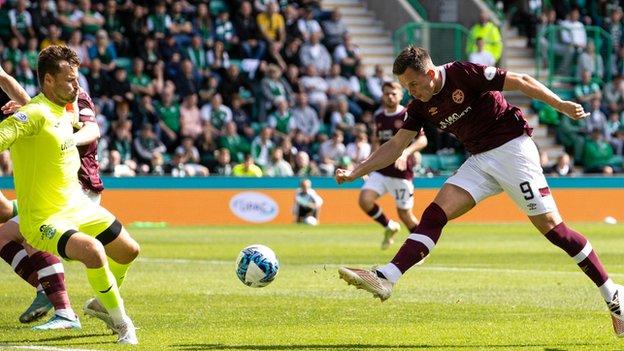 Martin Boyle made a heroic return to Hibernian with a 95th-minute equaliser to deny a Hearts Edinburgh derby victory at Easter Road.
Lawrence Shankland's first heart goal, stabbed under suspicion that he was controlling Barry McKay's pass with his arm, looks set to give the visitors a commendable Scottish Premier League victory.
But Hibbs called a late rally, sparking delirium after Boyle, who rejoined the club a day earlier, stabbed the home fan after Rocky Bushley squandered a once-in-a-lifetime opportunity.
Hearts extended their unbeaten derby to seven games, but that was no consolation as they regretted not making the most of their second-half advantage.
This leaves both sides with four points in their opening two league games.
Robbie Neilson changed the shape of the Hearts, starting from the back four and surprisingly, once his team found a rhythm, they had their first real chance to score after 22 minutes. Shankland crossed David Marshall's leg after taking McKay's ball. Debate has raged over whether the striker used his arm in the build-up.
The Hibs reacted well initially, Joe Newell shot, then Elie Youan found Craig Gordon in his usual long-limbed, spidery good form with the striker heading in.
It was Marshall's turn to save his team after the break as Hearts looked to kill the game and the Hibbs goalkeeper made close-range blocks to deny Shankland and McKay.
There was no second goal to convince Hibs. Boyle shrugged off a desperate hearts defense, but his timid shot was blocked behind him. In this corner, the ball was nodded by Bushri at the back post, but he somehow headed in from close range.
But it wasn't the last of the action, as Euan used good speed to create a cross that cut back to Boyle, who had a low shot to the delight of the Hibbers fans.
Best Candidate – Martin Boyle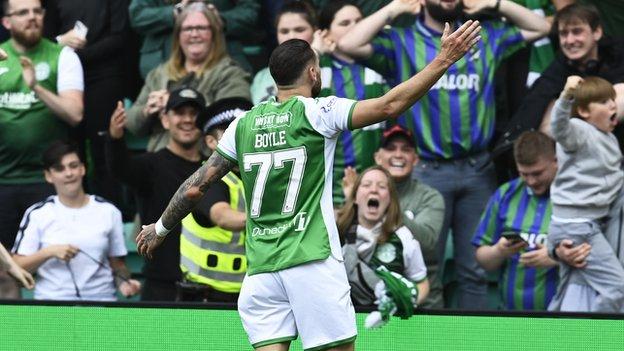 As Hibs hold on, people's hearts don't take chances
Hearts and Hibs fans will generally agree that the Edinburgh derby, while the spirit, blood and thunder are high, is often of low quality. Sometimes it takes a little magic to win it.
Shankland's off-foot shot looked like game-determining magic.
Hibs have lacked this magic lately. To be precise, starting in January. So the excitement was palpable when whispers of Boyle's return came on the Easter road. He was much faster than anyone imagined.
Registered at 11 p.m. the night before, even head coach Lee Johnson admitted he didn't think Boyle would be involved in the game.
Instead, the Australia international's return has come to an almost perfect end.
When Hearts fans want to blame something or someone, they may bemoan the coach's substitutions – they're a little defensive when it's just one goal ahead.
what they said
Hibbers head coach Lee Johnson: "We're really brave as a team with tactics and substitutions. It's a bit of a risk to have Martin Boyle on for so long, but we know what he can do and he's a Ranger at the right time. Type Roy returns.
"We'll be better, more cohesive, people will understand each other's movements more. The important thing is we don't lose the game, and five minutes of injury time, 1-0 down, it feels like A victory."
Cardiac Manager Robbie Nelson: "We were very frustrated that we didn't get the three points I thought we deserved. We dominated the entire game except for the opening 10-15 minutes.
"We had a lot of chances to get the second goal but we didn't take it and we paid the price. We should have just crossed the line but we didn't."
What's next?
Hearts boss Nelson's former club Dundee United host Dundee United on Sunday, while the Hibbs make a short trip to Livingston on Saturday (both at 15:00 BST).
player of the match
GordonCraig Gordon
Hibernian
class number77Player nameBoyle

class number1Player nameMarshall

class number12Player nameCarden

class numbertwenty threePlayer nameYouan

class number8Player nameDoyle Hayes

class number3Player nameCabrah

class number5Player nameheavy

class number6Player nameKenny

class number18Player nameHenderson

class number11Player nameNewell

class number32Player nameCampbell

class number9Player nameDodge

class number33Player nameBushiri

class number20Player nameMelkerson
Heart of Midlothian
class number1Player nameGordon

class number18Player nameMackay

class number9Player nameShankland

class number19Player nameCochrane

class number4Player nameHarkert

class number10Player nameBoyce

class number5Player nameHarlem

class number2Player nameSmith

class number15Player nameRawls

class number17Player nameForrest

class number7Player namegrant

class number14Player nameDevlin

class number16Player nameHalliday

class numbertwenty onePlayer nameSibek

class number12Player nameAtkinson
line-up
Hibernian
form 4-2-3-1
1

Marshall

12

Carden

33

Bushiri

5

heavy

35 minutes appointment

3

Cabrah

64 minutes reservation

6

Kenny

substitute

Doyle Hayes

exist

80′

minute

11

Newell

20

Melkerson

substitute

Dodge

exist

54′

minute

32

Campbell

substitute

Boyle

exist

62′

minute

18

Henderson

90 minute appointment

twenty three

Youan
alternatives
2

miller

4

Hanlon

8

Doyle Hayes

9

Dodge

17

Beaujan

twenty one

Dabrowski

twenty four

McGregor

37

McIntyre

77

Boyle
hearts
form 4-2-3-1
1

Gordon

2

Smith

substitute

Sibek

exist

63′

minute

4

Harkert

15

Rawls

19

Cochrane

5

Harlem

85 minutes appointment

7

grant

substitute

Devlin

exist

77′

minute

18

Mackay

10

Boyce

substitute

Halliday

exist

89′

minute

17

Forrest

substitute

Atkinson

exist

63′

minute

9

Shankland
alternatives
11

McKay-Steven

12

Atkinson

13

Stewart

14

Devlin

16

Halliday

20

Nelson

twenty one

Sibek

twenty two

Henderson

30

Kinnelli
referee:

John Beaton

Attend:

20,179
live text
Game over, Hibernian 1, Heart of Midlothian 1.

At the end of the second half, Hibernian scored 1 point and Midlothian Hearts scored 1 point.

Target! Hibernian 1-1, Heart of Midlothian 1. Martin Boyle (Hibernian) right footed shot from the centre of the box to the bottom right corner. Assisted by Thody Élie Youan.

Attempt failed. Rocky Bushiri (Hibernian) header from the right side of the box from 6 yards is too high. Assisted by Ryan Porters.

Corner, Hibernian. Craig Halkett admits.

Attempt to be blocked. Boyle (Hibernian) right footed shot from the centre of the box is blocked. Assisted by David Marshall.

Attempt to be blocked. Elijian (Hibernian) header from the centre of the box is blocked. Jack Doyle-Hayes makes the assist.

Ewan Henderson (Hibernian) is shown the yellow card for a foul.

Foul by Ewan Henderson (Hibernian).

Barrie McKay (Heart of Midlothian) wins a free kick on the right wing.

Foul by Joe Newell (Hibernian).

Barrie McKay (Heart of Midlothian) wins a free kick in the defensive half.

Jake Doyle-Hayes (Hibernian) wins a free kick in the attacking half.

Foul by Andrew Halliday (Heart of Midlothian).

Alternate, Heart of Midlothian. Andrew Halliday replaces Liam Boyce.

Handball by Cameron Devlin (Heart of Midlothian).

Chris Carden (Hibernian) wins a free kick in the defensive half.

Foul by Lawrence Shankland (Heart of Midlothian).

Peter Haring (Heart of Midlothian) is shown the yellow card for a foul.

Martin Boyle (Hibernian) wins a free kick on the right wing.